A rich history
This website is available in Dutch only.
For further information you might want to contact us.
The Weerter Mixed Choir "Vivace" was founded in 1970 as a result from a merger between two choirs, the women's choir Vivace and the men's choir St. Gregory in Weert. The now secular choir achieves a high level of quality. Continuous education and an ambitious repertoire, regular workshops and intensive rehearsals ensure that the high level is maintained.
Through international concert tours and regular cooperation with (often foreign) choirs Vivace is well known and appreciated in music circles and enjoys a good reputation. Throughout the years the choir has become one of the best choirs in Weert and the surrounding regions. The fact that Vivace won several honourable prices in choral competitions underlines the quality. In the Limburg Choir Festival Vivace achieved the first prize in the category large mixed choirs.
In addition to numerous concerts in the Netherlands Vivace gives regular concerts abroad. Day trips, weekends and longer concert tours have already been undertaken, including to the Czech Republic, Belgium, Germany, Austria, USA (Florida), Italy and Spain. The choir sang in many famous churches and cathedrals, with as an undisputed highlight a concert in St. Peter's Cathedral in Rome.
A professional conductor and a professional accompanying pianist are committed to the choir. The choir rehearses weekly on Tuesday evening in Weert.
Our conductor
Dion Ritten (1958) started his music studies at the Maastricht Conservatory (The Netherlands), where he achieved his degree in scholar music in 1982. He proceeded studying Choral Conducting for two years at the Institute and prosecuted this study at the "Staatliche Hochschule für Musik Rheinland Grenzland – Institut" in Aachen (Germany). He completed this study successfully in 1986. Furthermore, Dion Ritten studied conducting with Professor Louis Weemaels, renowned former director of the National Orchestra of Belgium.
In 1987 he took part in a Masterclass Orchestra Direction in Vienna (Austria). In the same year he was a winner in a conducting course of the Limburg Symphony Orchestra. Since then, Dion Ritten directed many choir – orchestra productions, including opera productions with the cooperation of the Limburg Symphony Orchestra. He works regularly with renowned soloists such as Harry Peeters, Corinne Romijn, Ernst Daniël Smid, Kim Savelsbergh, Pittie Pascal, Frans Kokkelmans and Lien Haegeman. Meanwhile he conducted concert tours in many European countries and the USA. Dion Ritten performes actively in various international symposia and workshops in the field of choral singing, including the Netherlands, Germany, Czech Republic, Belgium, USA and Japan. He gave lectures at several American universities.
Dion Ritten is a jury member at choir festivals on a regular basis. As a choir conductor he achieves good results in competitions. In 2005 he reached the finals from the Dutch Choir Festival (NKF) with two of his choirs. He is co-organizer of the Euroregion Choral Symposium and co-founder of the newly established Dutch Organization for Choral Conductors (NOVK).
Currently he is conductor of the Royal Men's Choir in Nijmegen, the Mixed choir "Vivace" in Weert, the Roermond Singing and Musical Society, Choir Beeker Liedertafel in Beek and Chamber Choir Cantate in Venlo.
Since August 1, 1984 Dion is the permanent conductor of the Mixed Choir "Vivace".
Our pianist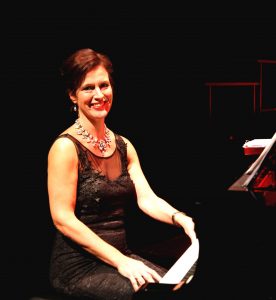 Véron Jongstra began her piano studies with private teacher Jan Kollee. From her 17th year on she took lessons at the Music school in Weert, where she was preparing for the entrance exam piano at the Maastricht Conservatory. In 1984 she began her professional piano major at the Maastricht Conservatory with Avital Schönfeld, where she achieved the degree of piano teaching in 1990.
She continued her studies at the Rotterdam Conservatory with Michael Anderson and obtained a Performing Artist degree in 1993. Furthermore, she obtained the degree of choral conducter at the Music school SNK in Beek.
Véron Jongstra currently teaches at the Music Foundation Region Kerkrade and the Kreato Foundation in Thorn. On a regular basis she is the musical companion of famous solo singers, such as Ernst Daniël Smid, Harry Peeters, Hub Claessens, Frans Kokkelmans, Andrea Poddighe, Corinne Romijn, Kim Savelsbergh and Janine Kitzen. Besides solo performances, both with orchestra and in the form of recitals, she accompanies choirs, soloists and instrumental musicians. The piano duo Véron Jongstra – Esther Zaad is well known in musical circles.
Véron acoompagnies the Weerter Mixed Choir "Vivace" on piano and organ. And she has de function of second conductor. As conductor she is also affiliated with the Women's Choir in Meijel, the Limburg Project Choir, the Vocal Group "Unique" and the Chèvremont Men's Choir.